The morning sun peeks through your window, and you roll over in your bed. You smell freshly ground coffee, and you know that a freshly brewed cup is waiting for you downstairs, exactly the way you always order it. Are you living in a coffee shop in your dream? Have you hired a barista to come make your coffee? No…you finally decided to install the built-in coffee maker you have always wanted.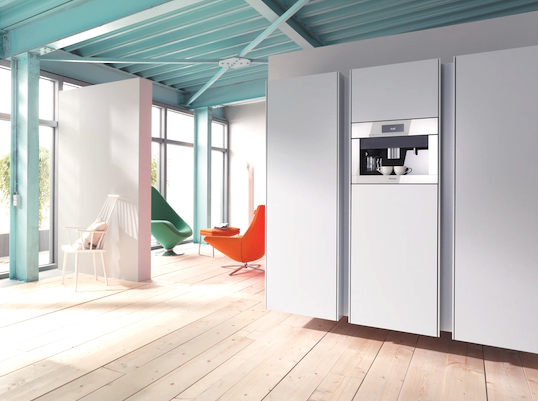 Now you can have a professional coffee machine anywhere in your home. Miele offers built-in coffee machines to deliver an exquisite coffee experience in the comfort of your own home. Now your coffee dreams can become a reality.
Check out some of our favorite features:
Adjustable height – The unique CupSensor* recognizes the height of the cup and positions the central spout accordingly. The ideal distance not only avoids splattering but also ensures the perfect coffee temperature and the best possible crema. After adding the milk, the central spout moves upwards by 0.39 " (1 cm) to prevent soiling.
Easy to use – With the intuitive Touch display, you can enjoy your favorite specialty coffee with just a few touches. You can even program the coffee to start brewing just before you wake up and brew two cups at the same time so that you can easily share your morning cup of joe. Because preparation takes less time, you have more time together.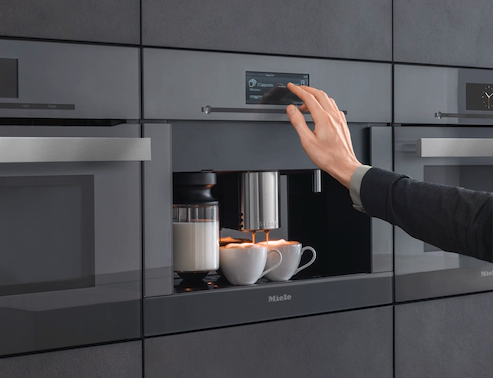 EasyClick – With this convenient feature, the milk system simply clicks into place at the front in the appliance door and is just as easily removed. Along with EasyClick, the coffee machines from Generation 6000 also offer a high-quality, transparent glass milk container, allowing you to see when the milk needs replenishing.
Easy to clean – Daily cleaning is carried out by these intelligent appliances almost automatically. After the preparation of coffee specialties with milk, all components that carry milk are rinsed automatically with water from the water container. The exclusive descaling program, AutoDescale, automatically ensures durability on CM7 models. The drip tray, water container, and waste container are easy to remove and dishwasher-safe thanks to ComfortClean. The efficient cleaning functions guarantee hygiene and coffee flavor and help maintain the overall value of the machine.
When you decide to buy a built-in coffee machine from Miele, you are guaranteed to experience pure coffee enjoyment and moments of unforgettable coffee delights. With a perfectly coordinated system, our coffee machines prepare a wide variety of coffee specialties as only an expert could. This is something you can see, smell, feel, hear, and, of course, taste. It's time to wake up and smell the coffee in the comfort of your own home.