You want the same things for your family as your parents did: healthy, delicious homemade meals. In many ways cooking for your family has stayed the same, preparing many of the same recipes with fresh ingredients and lots of love. Your parents had only two choices when cooking: gas or electric. But your generation has an additional option in the kitchen: induction cooking.
Induction cooktops look like glass top ranges, but internally they offer the next generation of cooking power. Induction cooktops generate a magnetic field that turns the cookware into the heating element and only heats the pan when it is on the burner. Without a pan to help create a magnetic field, no heat is generated. This means that the actual surface remains cool even while cooking. When the pan is removed, the surface is only warm.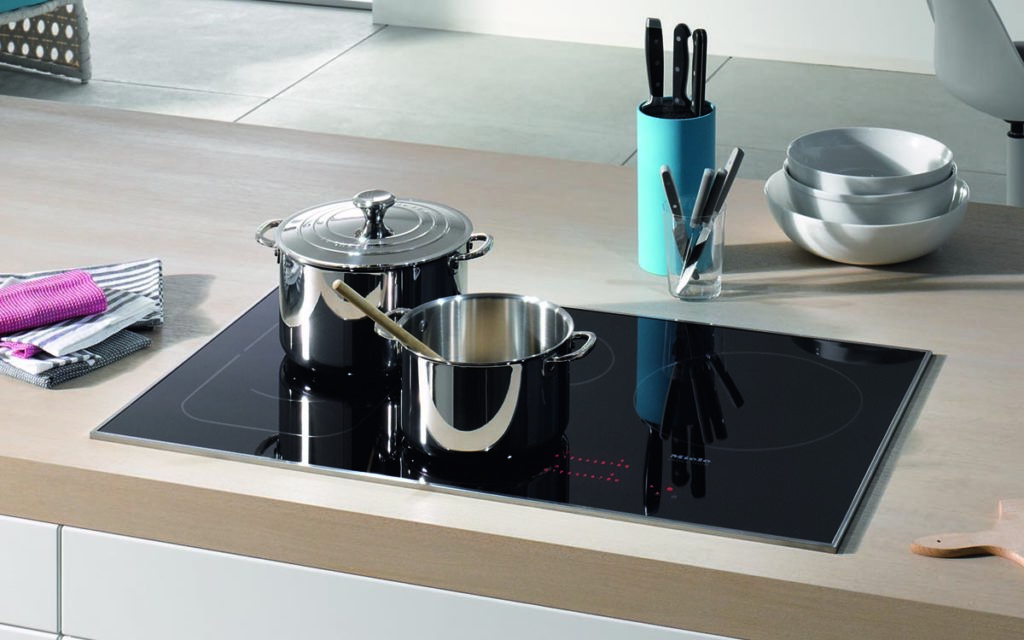 This innovative cooking method offers many benefits to the next generation of cooks:
Safety
Because the surface of the stove doesn't generate heat unless it comes in contact with a pan, it makes it safer to cook with the whole family. It also means that even if the stove is accidentally turned on, the surface will not get hot or start a fire.
Precision
Induction cooking offers you a high level of precision. It immediately responds to even the slightest change in temperature control, and it adjusts to the size of your pan. PowerFlex combines two zones into a unique large zone, making it ideal for casserole dishes and large pots. This means you can cook for any size crowd.
Speed
Induction cooktops heat quickly, which can help you get dinner to the table faster after a long day of work. The TwinBooster function draws power from a neighboring zone and offers rapid heat-up times, reducing the amount of time required to boil large pots of water.
Energy efficiency
Having energy-efficient appliances is an important part of protecting our environment. With induction cooking, 85-90% of the heat energy generated is actually used for cooking, in comparison to 65-70% with gas or electric. With induction, you are not wasting heat and the burner automatically fits the pan size.
Easy to clean
The glass top surface is easy to clean and you don't have to wait for it to cool down. You don't have to spend time cleaning all the nooks and crannies of the stovetop. It can be done quickly and easily so you can get back to relaxing with your family. The EasyClean Ceran Surface is an extremely durable glass-like surface that is designed to resist heat transfer, making it exceptionally safe.
High-tech features
You have the power of the Internet to help you get the most out of your Miele appliances. When paired with the appropriate Miele ventilation hood, Miele's exclusive Con@ctivity 2.0 technology enables induction cooktops and ventilation hoods to communicate with each other, ensuring the hood turns on and off in sync with the cooktop while operating at the optimal setting. These models also include an intuitive control panel, a "keep warm" function, and increased safety features like Stop & Go, which automatically reduces the power level to the lowest setting.
The Miele Induction Cooktops are available in 24", 30", 36" and 42" models, ideal for a variety of kitchen designs and configurations. The 30" and 36" models are available without a frame and feature sleek, flush, mounted installation. No matter what your family needs, we have the tools you need to keep bringing healthy, delicious meals to your family just like your parents did.