Enjoy a perfect fall day with a bowl freshly baked apple crisp topped with vanilla ice cream. Experiment with different kinds of baking apples, as each will bring their own flavors to this dish. Make the streusel ahead of time and freeze the extra to be enjoyed on other desserts and pies.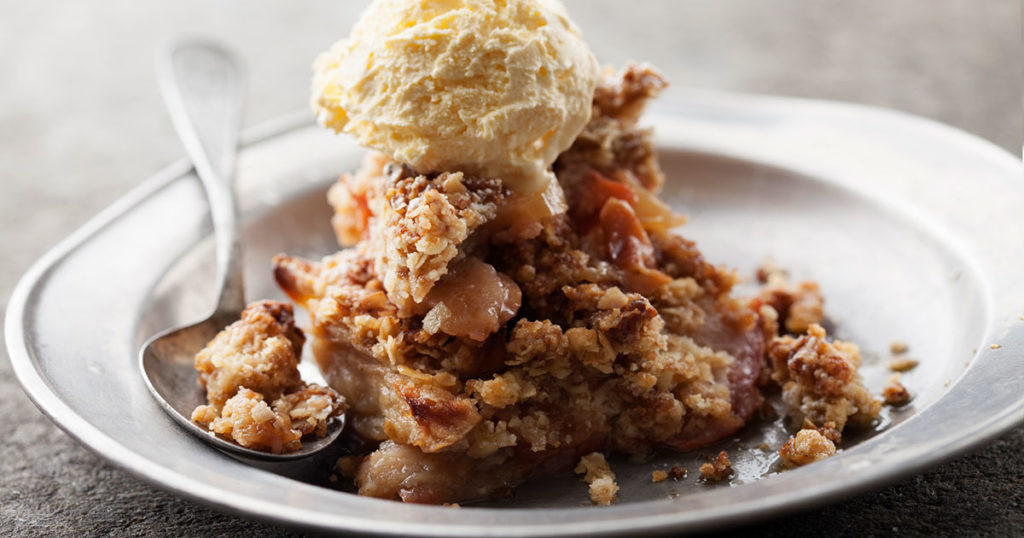 Ingredients
Streusel topping
½ lb of butter, softened, cubed
2 cups brown sugar, firmly packed
2 cups rolled oats
1¼ cups all-purpose flour
1½ teaspoons cinnamon
½ teaspoon nutmeg
Apple mixture
6 medium apples, peeled, quartered and sliced ¼ inch thick
1⁄3 cup sugar
¼ cup all-purpose flour
2 tablespoons water
¾ teaspoon cinnamon
¼ teaspoon nutmeg
¼ teaspoon salt
Directions
Streusel
In a large bowl, combine all the streusel topping ingredients. Crumble together until well combined and set aside.
Apple Crisp
In another bowl combine apple mixture ingredients.
Pour the apple mixture into a greased 8″ square baking dish.
Top with a generous amount of the streusel topping.
Place on the wire rack set on position 2. Turn the convection steam oven on by selecting the Auto Steam Bake Mode set to 345 °F.
Bake until golden brown and bubbly, approximately 45 minutes.