With simple ingredients and preparation, this dessert is sure to be a perfectly flavorful ending to your meal.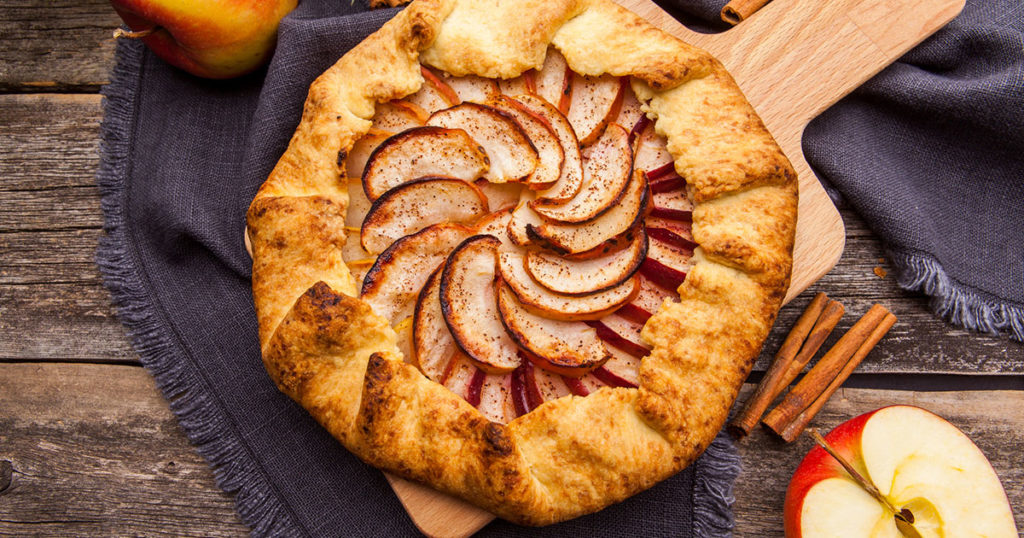 Ingredients
1 pie dough, homemade or store-bought
2 gala apples, cored and sliced thin
3 Tablespoons packed brown sugar
Juice of 1/2 lemon
1 teaspoon ground cinnamon
2 Tablespoons butter, cut into small cubes
1 large egg, lightly beaten with 1 tsp water
1 teaspoon demerara sugar or sugar in the raw
Directions
Combine sliced apples, brown sugar, lemon juice, and cinnamon in a large bowl. Mix well.
Place the pizza stone on the second lowest rack of the oven (rack 2) and preheat the oven for 30 minutes on Operating modes / Intensive mode / 400°F. Alternately, preheat the oven to 400°F.
On a lightly floured surface roll dough into a 12-inch circle about 1/8″ thick. Transfer to a piece of parchment paper and place on a pizza peel for easy transfer to the oven. If not using a pizza stone, place on a baking tray.
Arrange apple slices on top of dough, leaving a 1 1/2″ border around the edge. Fold the edge nearest to you towards the center, leaving some fruit exposed in the center. Repeat around the fruit, overlapping previous fold slightly, until all edges are folded inward.
Brush egg wash over crust and sprinkle with demerara sugar.
Top exposed apples with the butter cubes.
Using the pizza peel, slide galette onto the pizza stone. Bake until crust is golden and fruit is tender, about 30-35 minutes.
Let cool before slicing.
Recipe from our friends at Miele.